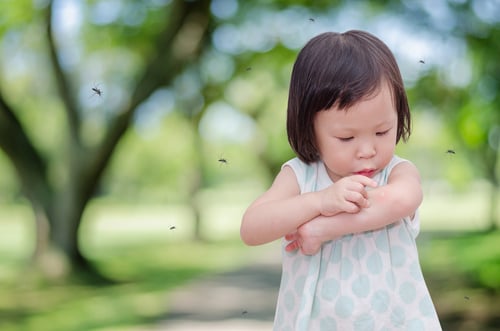 When we are disturbed by mosquitoes, we can expel them using mosquito rackets, use mosquito repellent patches, or spray them with insect repellent. However, how do you prevent babies from being bitten by mosquitoes?
Babies are more prone to being bitten by mosquitoes than adults because they can't get rid of it themselves. However, there are three easy ways to prevent babies from being bitten by mosquitoes.
1. Apply a mosquito Repellent Patch from Mozzigear
Even though they have worn trousers and also use mosquito nets, sometimes there are still one or two evil mosquitoes that sneak in and bite the delicate baby's skin. Usually, mosquitoes attack the cheek area and forehead because they are not closed. The solution is to apply an anti-mosquito patch so that the baby is free from mosquito bites. But be careful when choosing mosquito repellent patches.
Baby's skin is very sensitive and soft. Make sure you provide maximum protection for your baby, one of which is to provide a mosquito repellent patch. This mosquito repellent patches from Mozzigear is made from citronella extract, the scent of citronella can help protect babies from insect bites and mosquitoes.
The ingredients contained in the mosquito repellent patches from Mozzigear have been tested so that they are safe to use and can last up to 12 hours. Available in Diameter 3.5cm.
2. Wear clothes that can prevent babies from mosquito bites
Even though the air feels warm, keep the baby's skin fully protected by wearing clothes that can prevent mosquito bites. Usually more mosquitoes during the night, so wear long hands and trousers when the baby sleeps.
3. Use a mosquito net while sleeping
When the baby sleeps in a box or bed, use a mosquito net to prevent mosquitoes from approaching the baby. Parents also need to install mosquito nets on the window and door grilles.
Wow, there's no need to be afraid anymore with mosquito attacks! Do you have other ways to prevent babies from being bitten by mosquitoes?